It is January: the month of wanting to hibernate and of post-Christmas lows
I have been busy trying to inspire and console myself in equal measures
So here are my pick-me-ups of the month:
A client of mine recently alerted me to this lady, and her beautiful cushions in particular, a week ago. Sasha uses mostly British wool blankets form the late 19th century to the '70s.
She only uses old and vintage natural fibres (wool, hemp, cotton & linen) and makes blankets and cushions, usually in cream on cream or dyed by hand in her own
workshop.
All of her creations are one-offs and they are also machine washable (hurray!) and in Sasha's words "designed with real living in mind".
Sasha is based in Jersey and works on commission although she also carries a good stock of beautiful things.
Think I'll have the whole lot (plus the cupboard) please
I would also like a bed like this
(and a day off work to snuggle in it)
I know that the Orla craze has run and run but I rather like all the accessories that now abound on the high street. Somehow Orla, despite going global, has still managed to maintain her sophistication (in my view) and a recent purchase is still floating my boat: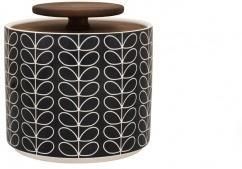 Perfect for a chocolate cache
I must also admit to having a slight crush on Mondaine clocks - everything from watches to mahoosive wall clocks.
There's something about Swiss regularity and efficiency that makes you long for a Swiss timepiece inspired by the Swiss railways clock:
Iconic
This fabulously talented Interior Designer turned Architect has only just come onto my radar whilst watching a Grand Designs repeat this week.
Kevin's postulations aside, what shone was the incredible building designed by Kathryn and kitted out with upcycled Danish design ethic inspired furnishings. Hats off to Kathryn - what a stunning result:
clever clean design
What is keeping you going through to February?